This morning held a couple of surprises. As usual, we rose early as so as not to miss the sunrise. But surprise, it didn't happen. Oh, the sun did rise, but it was behind of curtain of heavy clouds which was even more welcome than the brilliant corals and lavenders we usually see at daybreak. So instead of our early morning walk, we had the pleasure of deck-sitting for a spell to watch and listen to the mellow showers give this parched valley a much-needed bath. You can actually smell the rain, you know. It's right in the same category as the fragrance of freshly-mown grass. Add to that my cup of steaming Italian roast coffee right out of the French press coffee pot. All that, and I was right next to heaven.
The showers were a surprise since there was only a thirty-five percent chance of rain according to the weather man. Usually in July in South Texas, thirty-five percent chance of rain translates to one-hundred percent chance of sunshine.
Now on to the next surprise. Midmorning, we decided to leave our computers and take a walk. Not the usual sightings of birds, rabbits, a gray fox, or a deer, but we discovered a couple of different sightings as we walked. Someone obviously had taken this path before we did, and this someone left two messages. I can't say for sure these messages were meant for us, or if they were even truly intended to be messages, or if they were left by the same person, but they intrigued me. I'll let you decide.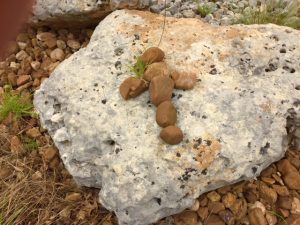 Nevertheless, I looked at these rock-gatherings as messages, and I appreciated them because they spurred a thought. So, I found myself in need of more deck-sitting time to ponder a while after we got home. We all leave messages, intended or not, and I began to ask myself what kind of messages I leave throughout the day. And I decided I'd like to be more intentional about those messages, just like the one who gathered these rocks. Now I'm not the rock-gathering kind because I know that scorpions crawl around in those rocks in these hills, but I've already come up with a few ideas about ways to leave messages that just might surprise someone like the rain and the rocks surprised me this morning. So, I ask you, my friend, what kind of messages are you leaving in your path today?