It was the Christmas of 2013, and we knew it would be the last Christmas in our house of twenty-six years. We had purchased a place out in the Texas Hill Country as part of our plan to downsize and lead a simpler, quieter life outside the noise of the city, and we were preparing to make the move in February.
So many memories were made in twenty-six years under that roof, and so many wonderful gatherings of family and friends were at the center of those memories. And you'd not be surprised to know that many of those traditions involved food. Over the years, we had developed family traditions that were important to Bill and me, but I didn't realize how important they were to our youngest granddaughter Kylie.
I don't remember why, but in the middle of our family Christmas dinner that year, I excused myself to go to the kitchen. But what I do remember is that eleven-year-old Kylie followed me to the kitchen. She stood at the counter next to me, looked up at me, and asked, "Nana, what are we going to do next Christmas? Being at your house is our tradition."
I was stunned. It's not exactly normal for an eleven-year-old to be thinking that far ahead, but I knew something of what she was feeling. Thoughts of this being our last Christmas in our house had been drifting through my mind for weeks as I unpacked Christmas decorations, knowing that many of them would never return to the attic. When I made the last batch of fudge and got out the Christmas dishes and chopped the celery and baked the dressing, I kept saying to myself, "This is the last time in this house." And honestly the only solace I could find were thoughts of being in our new home surrounded by hills and valleys and sunrises above horizons I could actually see. But even those thoughts had not consoled my melancholy.
In a strange way in that moment with Kylie, I found some comfort knowing that I wasn't the only one feeling the pain. And Kylie's obvious sadness and her question made me realize we had done some things right in establishing family rituals. Those traditions had cut grooves and paths through her young brain. Our traditions were memory-making. They were predictable, something she could count on and look forward to. So, I responded, "Yes this has been our tradition. And we'll just carry on some of our traditions, but we'll make ones and new memories in a new place." That seemed to satisfy her.
There's a difference between a habit and a tradition. A habit is an action that an individual does repeatedly and regularly, and hopefully those actions are good ones. But a tradition? That's something different, something more deliberately planned for the benefit of more than the individual. Traditions have to do with a family's culture and the ability to pass the traditions down through the generations. They are valuable, perhaps more valuable than ever in our society where families are mobile and some of them splintered.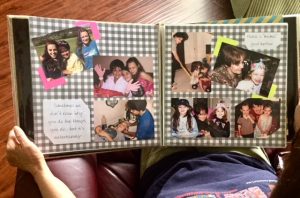 I write about the value of traditions in THE FAMILY PORTRAIT series. When young Kate's mother learns that she will not be living much longer, she wisely prepares her daughter as best she can. Much of her preparation centered around reminding Kate about family traditions. After her mother's death, Kate holds on to those traditions as if they were a lifeline, not just to the memories of Mama but for the continued living of her own life.
One of Kate's favorite traditions was a bedtime ritual she and her mother had. Each month, together they made a large calendar which was hung on an easel in Kate's room. Nightly, Mama asked Kate before they prayed together, "Who smiled today because of you, Katherine Joy Harding?" Saying her full name reminded Kate of who she was. And if Kate could report to Mama exactly what she did to make someone smile, Kate could put a smiley face on her calendar. Kate's wise mama was creating healthy tracks running through Kate's young mind. What started out as a tradition became a healthy habit for Kate, one that would remind her how she was to treat others.
I hope you have family traditions, and I hope you'll share them. I'd love to hear about them, and who knows, your tradition may encourage others to start a tradition for their families. Meantime, you might read THE CHRISTMAS PORTRAIT and THE BIRTHDAY PORTRAIT to learn some of the Harding family traditions.