Seems Christmas is the season for listing making – the list for Santa, shopping lists, to-do lists, grocery lists, and Christmas card lists. I am a list-maker from way back, and do I have a list! At the risk of being accused of stepping onto my soapbox, I have made a list of a few things you just shouldn't mess with – those things that are so traditional and true and just should stay as they are. Mind you, this is all according to me.
Don't mess with Red and Green for Christmas! These are those "stop and go" colors that just scream Christmas, so don't be messin' with them. Blue, purple and pink are quite lovely, but at the Nichols' Nest, we reserve those colors for Easter. After all, God made trees green and berries red for us at Christmastime.
Don't mess with the butter or cheese called for in your favorite Christmas recipes. There is no substitute for butter – NO substitute. And if the recipe calls for cheese, use the good stuff, the kind that gets gooey and stringy when it melts. I do love cheese of all kinds, and I even tried the fat-free once. I gave it up faster than it takes to milk the cow when I discovered it wouldn't melt and the mouse in the attic wouldn't eat it.
Don't mess with classic Christmas Music! We've been listening to glorious Christmas music. Now I do love the carols and creative arrangements of familiar tunes, but once or twice I nearly lost it. You just don't mess with Handel. Let the music speak for itself. Nothing this classic needs to be Mariah-Carey-ed up. Save that for rocking around the Christmas tree.
An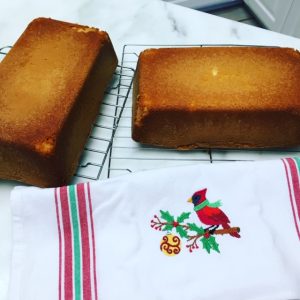 d don't mess with TRUTH. Truth is the realest thing there is. Truth is God's measuring stick, and while it is deeply personal when we accept it, Truth is not personalized or individualized. You don't stretch the measuring stick and expect to get accurate measurements. Absolute Truth does not change no matter  how our culture attempts to change the Truth. Who are we to transform Truth? We allow God's Truth to transform us. And contrary to what Oprah says about "living your personal truth," we need God's perfect measuring stick to keep us living God's way, making us purposeful and fulfilled people. Christmas is Truth—God With Us, and Christmas means we can be with Him forever. That's the Truth that matters, and that's really something to celebrate with your family this Christmas.
Now, there is one other thing on my "Don't Mess With List" — Mama's Pound Cake Recipe. Why mess with perfection? But in this case, there is one exception – it comes at Christmas time when I make Eggnog Pound Cake, and it's perfection, too. Check out both recipes in the recipe section of my website.
I do hope that in this season you're enjoying all the sights and sounds and smells and feelings of Christmas. And I hope you share those with people that you love.
Merry Christmas, and don't be messin' with things that don't need messin' with,
Phyllis