Native American Fry Bread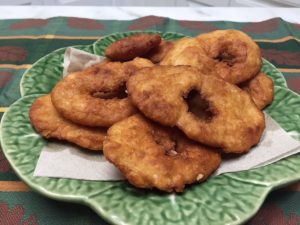 INGREDIENTS:
2 cups all-purpose flour
1 tablespoon baking powder
1 teaspoon kosher salt
1 cup steaming tap water
Vegetable oil for frying
DIRECTIONS:
Mix dry ingredients well.

Add steaming tap water and stir until a dough forms.

Grease your hands and shape the dough into a mound.

Cover the dough with a towel and allow it to rest in a warm place for thirty minutes.

Pour about 1 inch of oils into a pan and heat on medium high. Test by dropping a dusting of flour in the oil to see if it sizzles. The oil should be hot so the bread is not soggy or greasy.

Spoon a ping-pong-sized ball of dough into your greased hands and flatten like a cookie. They should be between four and five inches across Poke a hole in the center like a donut.

Place the dough in the hot oil and allow it to brown on one side before turning (approximately two to three minutes per side).

Drain on paper towels before serving.
Note:  I like to dust powdered sugar on these for dessert with a bowl of my favorite ice cream. My husband loves them with butter and honey, like sopapillas. And they're especially good with a piping hot bowl of homemade vegetable soup, Brunswick stew or chili.
"The guests CHRISTMAS AT GREY SAGE enjoyed Lita's fry bread along with everything else she cooked."