INTRODUCTORY NOTE: One of our dear friends, an infectious disease specialist and frontline medical professional, has been leading a drug trial for the drug Remdesivir, which appears to be a successful and viable treatment for the coronavirus. In learning more about this and praying for him and a medicine that would work, I had to ask myself, "Now what is the likelihood that this drug which could save so many lives is made by Gilead Sciences?" Call me strange, but somehow, I just don't think that name's coincidental. I grew up singing and playing the old spiritual "Balm in Gilead." With all this ricocheting around in my head, I felt a little nudge to do a series on the subject of the Balm in Gilead. So, for the next three weeks, I'll be adding to this study. I hope you'll take a bit of time to read the book of Jeremiah. I think his questions will resonate with you, and I think you'll find a lot of hope there. And the photo above is from our deck. I think one reason I love these hills so much is that they remind me of the places where Jeremiah and Jesus walked.
Bob Dylan was a prophet of sorts in 1964 when he wrote the song, "The Times They Are A-Changin'." Go, look up the lyrics. They are chilling. He couldn't have foreseen 2020 and the Pandemic as he wrote about the need for social change. Well, we're experiencing some of those changes, and no one, not one, is insulated from them.
Our newsfeeds are drowning in dire reports of sickness, lack of supplies, unemployment, fearmongering, and reports of people profiting off the pain and fear of others. Some families are grieving the loss of someone they love or loss of jobs. Others are living in fear and under undue stress of just residing under the same roof.
And we're all hoping and praying that these times will be a-changin' too, and that life after the pandemic will be a better kind of different. We are clinging to the news of the hopes of a cure or a vaccine. But even with our hopes, we're asking some of the same questions the prophet Jeremiah asked.
Jeremiah lived through some of the most tumultuous times in Hebrew history. It would behoove us to look at how he lived through it and what he has to say about surviving with grace in the worst of times. Jeremiah weeps as he asks the questions – "Is there no balm in Gilead? Is there no physician here? Why then is there no healing for the wound of my people?" Jeremiah 8:22
"Is there no balm in Gilead?"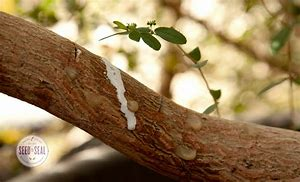 Gilead is a real place – a region north of the Dead Sea in Israel. In Bible times, this region was noted for trees whose oils had medicinal properties. Many scholars agree that the bark was slit on a balsam tree, and the resin or oil that seeped through had healing properties. It was a valuable commodity and used for trade.
No doubt, Jeremiah knew about Gilead's balm. In this passage, the weeping prophet feels desperate for himself and for his people as they are in exile. He expresses his heartbreak and hopelessness. He asks the question, "Is there no hope? Will things ever be better? Is there nothing or no one who can help?"
Are you feeling like Jeremiah, abandoned or exiled or hopeless because of the plague of COVID-19? Are you feeling the stress of sheltering in place? Are you grieving loss? Are you feeling desperate about finances? And maybe your worries are for someone else you love, not just yourself. Nonetheless, these situations leave you asking the same questions. "Is there no hope? Is there no one who will help?" Maybe like the people of Jeremiah's day, we need a balm, a spiritual balm.
I have good news. There is a balm in Gilead, and the balm has a name. His name is Jesus. He is the compassionate Great Physician and the ever-present Comforter and Healer. Here is what God says in Isaiah 41:10. "So do not fear, for I am with you: do not be dismayed, for I am your God. I will strengthen you and help you; I will uphold you with my righteous right hand."  What could be better news? The Great I AM is with us, strengthening us, and holding us in His hand.
Prayer: Thank you, Father, that there is healing in You. I ask for Your provisions, not those of my own. I ask for faith, not understanding. I ask for the peace, hope, and comfort of Your presence. In Jesus' name, Amen.